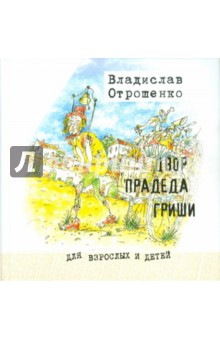 Review: 2.5 out of 3
Vladislav Otroshenko (1959-) is a Russian writer and essayist. Otroshenko was born in Novocherkassk, graduated from the faculty of journalism at Moscow State University and has,to this date, published a significant body of prose, some of which has been translated into foreign languages. "The Courtyard of Great Grandfather Grisha" was the winner of the 2003 "Clear Glade Prize" for Excellence in a Debut Literary Work of Russian Literature.
Honestly, "The Courtyard of Great Grandfather Grisha" was much better than I expected it to be. I expected the book to be a lyrical novella extolling the virtues of country life. However, though the novella was set in the country it was, if I may say so, 'diabolically unique'.
The novella is in effect comprised of 10 short stories and an epilogue, all centred around the cast of characters residing in GGG's courtyard. There's the really, really old GGG himself, his cantankerous spouse, and even some fantastical (and completely unexpected!) characters, such as the Crab King, little devils and house goblins. The book is teeming with black humour and pokes a lot of fun at country-life/fantastical characters from old Russian folktales. The novel only steps slightly out of line, for me, when it pokes too much fun at the deaths of some of the elderly characters. Call me old-fashioned, but I think that joking about the death of elderly people is rather
'mauvais ton'
. The book is at its best, however, when it plays around with the fantastical characters. My favourite stories were: "Treasures" (about the Crab-King and his secret 'treasure' chest); "Music" (about the eyeless General-organ grinder); "Kikimora" (about the housegoblin who succeeds in evacuating a bee-killing auntie); and "That Other World" (about a near-death-experience with devils).
Notably, "GGG's Courtyard" also manages to conclude with a poignant epilogue about how young people are the light in the lives of old country people, who often are faced with so much day-to-day hardship and suffering.
2.5 out 3 stars for an original set of stories.