Rating: 3 out of 3
"And if I will at some point have enough strength, I will once again defend equality. I will build a world of equality. I will work for all people. I'll write and live so that everyone is equal to their comrade and so no one will wish for a speck more than his equal share. This is the only thing worth living for. Now I know that its a very dangerous path. But I don't want anything else. To be equal to another is very dangerous. I want to see the red light of danger in front of me and walk towards the red light."
As much as I would love to read all of the books nominated for 2013 major Russian literary awards this year, given the time constraints, I have to limit myself to only a number of selections. "Red Light" by Maksim Kantor was one of the first books that immediately went on my "To-Read" list. Nominated for the 2013 "Big Book Prize":
'the author...writes about the great war of the last century and discusses our time, as history is unified. Hitler, Stalin, the conspiracy of the Generals of the Wehrmacht, the struggle between today's government and opposition leaders, the intrigues of politicians, romantic escapades, collectivization and privatization, the swamps of Rzhev in 1942 and Bolotnaya Square in 2012 - all of these threads form a living tapestry which our destinies are also woven into."
For a political/his-fic fan like myself, this sounded like required reading(!) But first things first...let's introduce the novel's author! Maksim Karlovich Kantor (1957-present) is a Russian writer, poet, lecturer and political commentator, but is probably most famous in the West for his artwork. Take a look at this:
and this...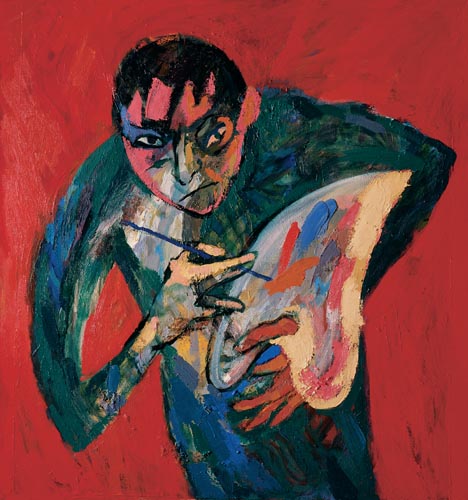 There's something very riveting about the man's artwork, no? :) Speaking of which, here's a picture of the artist himself...
Kantor's Father was a famous philosopher and art historian, his Grandfather was a minerologist and Spanish playwright, his Mother was a geneticist. "Red Light" is Kantor's second novel (the first, which came out in 2005-2006, also came out to rave reviews).
Now, going back to my thoughts on the novel. I'd first like to say that if you don't like politics or history, and if you were that person who hated all of the 'lecturing' in "War and Peace" and just wanted Tolstoy to 'get on with the story, already', then this book is really not for you. Run away from it at all costs. For everyone else, this is really a must-must read. Now, you'll see reviews of this book all over the blogosphere, and most people, even if they don't at all agree with Kantor's view on history and politics, still insist that this is a book that you should most definitely read. And you should. What Kantor has assembled here is an alternate view of 20th century European history. The book is incredibly dense: filled with historical accounts of the Russian Revolution, WWII, the repressions within the Soviet government in the '30's, as well as modern-day political events in Russia. You will learn A LOT reading this book. Then, of course, there's Kantor's political take on all of this; his arguments that all of these events are linked and that history has been repeating himself. Kantor stretches our perception of the world, nay- provokes us, to look at the history in a very different way from the version outlined in our highschool textbooks, with his comparisons of Hitler to Putin, Stalin to Hitler, Trotsky to Hitler; his theories on, ex/: why democracy needs war; war versus revolutions; that humanity has always striven towards equality, but that governments have always done their inmost to perpetuate inequality (often with the help of war), etc. etc. etc.
Now if you're going to read this book, I sincerely recommend that you read all the way to the end. There have been comments by readers that the book could almost have been made into several separate books, e.g. a detective novel, the unpublished confessions of one of Hitler's confidantes, a chronicle of a Russian soldier's experience prior to and during WWII, etc. There are also a huge number of characters in the novel which might initially frustrate, but believe me when I say that there is method in Kantor's madness! The first part of the book is absolutely brilliant (though you'll only know why towards the very end!) My advice- write down the name of every new Russian yuppy that you come across in the book's first pages as well as what their profession happens to be, and have it handy for the rest of the book, as you'll meet these same people (and perhaps, their predecessors) in very unexpected places throughout the course of the novel. This is a very dense, heavy book, with lots of moving parts, but everything comes nicely together if you stay with it!
Furthermore, what I've just said shouldn't at all be interpreted as reference to the book being boring. No, no...this is a riveting book that can be read very quickly and with great interest. Just have a highlighter ready to highlight innumerable paragraphs with interesting historical/political facts and theories, e.g.:
"If you were to rely on the facts" I said "then it turns out that Adolf Hitler killed less people then the enlightened democratic world....it turns out that after the war, more people died. Stalin and Adolf were just a general rehearsal."
"Civilization assimilated the lessons of Hitler, but is ashamed of itself. Hitler broke up Czechoslovakia, and this is exactly what the liberal world has repeated today- simply and precisely...Ukraine against Russia was the brilliant plan of the Furor....Hitler armed the Albanians by creating the Kosovo Legion of the SS which manifested itself solely in the shootings of the Serbian population, but its exactly this that has happened right now, thanks to the motioning of democratic hands."
"Freedom doesn't signify your own personal gratification but the fulfillment of your societal duty, your duty towards all of the people on earth....Your duty is your freedom. It all comes part and parcel. Its impossible to be free without fulfilling your duty."

"You can only constrain a country of such dimensions and with such a climate (Russia) through the creation of internal dissension."

"Society needs inequality- otherwise, its impossible to control people."

"The airplanes of the Luftwaffe that bombed the USSR and England, that killed English, Russian and American soldiers used oil produced by American corporations."

"Franklin Roosevelt's decree of December 13, 1941 allowed business deals with companies under Nazi control...Ford's factories on the territory of occupied France operated regularly. Volkswagen belonged 100% to General Motors and Opel, which belonged to Ford, produced nothing but tanks...Every year on Adolf's birthday, dear Mr. Henry Ford transferred fifty thousand dollars into our account, starting from the day of the founding of the Nazi Party. You ask why? Well, because the book by Henry Ford "The International Jew" was published three years before Adolf's book and Ford was the only American that my Adolf made reference to....and you can be sure, my friend, that Henry Ford supplies his cars to us completely free of charge...and what about the help which was provided to the Reich by Mister Prescott Bush, a Texan millionare, the director of "Union Bank?"

"At some point, industry in Europe will vanish, the population of Africa will labour and white men will start to print money."

"World wars are the struggles between magnates."

"Practically not one of the Generals of the Wehrmacht served his sentence....By 1955, everyone who had received 25 years was released, but as a rule, people were freed in 1947."

"As has become the tradition in Russia, emigrees start with revelations and end up collaborating with secret services."

"Democracy has officially been recognized as the model of societal order, however, its long been clear to everyone, that in Western countries, the form of rule the world over is by oligarchs."

"Revolution is the war of a poor man. War is the revolution of a rich man."

"The death toll amongst Soviet prisonners of war was without precedent and comparable to the Jewish Holocaust."

"During the 30 years of the existence of the Gulags, 3.3 million prisoners died; that is, exactly as many as the number of Russian soldiers who died in German internment camps over four years."

"The middle class is the only possible form of equality within capitalism....the middle class will be done away with when the time comes to act. Its just a matter of devaluing shares. While the middle class justifies local wars, its needed; when the time comes for a big war- the middle class will be done away with."

"Have you really not understood that freedom is provided on credit?"
Etc. etc... this is just a sampling of the many many passages I have highlighted from this book. In summary, "Red Light" is a great book, and one of the best of 2013 for sure. (I'm really not sure how it managed not to win any major book prizes- where's the justice??)
There's plenty here in "Red Light" to agree or disagree over. A perfect book to debate with your politically savvy friends. 3 out of 3.
Coming up next: A look at epic "Queen-Fish" by Viktor Astafiev and 2013 Booker Prize Finalist "The Harbin Moths" by Andrey Ivanov.